Tis the season to be...culturally sensitive. Holidays are fun, exciting and great themes for therapy; unless of course, you have students don't celebrate holidays. As Speech-Language Pathologists we are charged with the task of providing quality skilled intervention while being culturally sensitive and striving for cultural competence.
It's a great idea to find out about the cultural practices of families at the beginning of the school year. If you have not, at this late date it is better to be safe than sorry because not everyone celebrates Christmas. Some people celebrate Hanukkah, and some celebrate Kwanzaa. Many therapists who try to be sensitive opt to incorporate holidays around the world; and, this is great, unless you have a student whose family doesn't observe holidays at all. Some people like to have these students go to an alternate setting or work on a different activity during holiday activities; however, this is not really ideal because it's exclusive and could make the child(ren) feel awkward.
The students who celebrate holidays are often excited about the holiday themed activities; but, trust me they will enjoy other engaging activities if presented. Prior to the pandemic, it was easy to get students to engage in hands-on activities related to weather. Making snow was always a hit in places where it doesn't snow. Creating kindness or compliment cards for random acts of kindness was usually fun as well. Gingerbread stories are great; however, they need to be screened to make sure that the version being used doesn't have holiday references.
Now that COVID is here, it's a little more challenging to plan engaging activities that are not holiday themed; but it's not impossible. You can still find fun ways to keep students engaged without talking about the holidays. One resource I found provides an array of interesting topics and holidays that are not related to religious beliefs is located here: http://www.holidayinsights.com/moreholidays/december.htm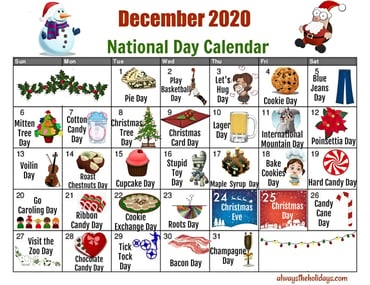 You can locate or create activities around special days that will not disrespect anyone's culture and will allow everyone to participate. I love that this site has that information for every month of the year; so, in addition to being culturally sensitive, we can expose our students to something different. Since we don't typically celebrate holidays on the actual day, I think it will be safe to share the dates and celebrate them any time during the month, just like we do the religious holidays. Holidays in December that might work well for therapy include:
Eat a Red Apple Day - Younger students can describe apples, read a story or text about apples, answer questions, follow directions to prepare apple snacks, and eat it (if at home). If at school, students may use personal materials to follow directions to create an apple craft.
National Roof Over Your Head Day - Read a book or text about homes. Practice describing and answering questions about pictures of different homes. Have students use personal Legos to follow directions to build homes. With older students have them create digital collages of dream homes and explain why each home was selected for practice expressive language.
Mitten Tree Day - There is so much available on the book with The Mitten already available. You can select any of the activities appropriate for your caseload.
Letter Writing Day - Since we're in the middle of a pandemic, email might be a better alternative; but, our older students working on sentence formulation and overall expression could participate in an email pen pal activity with other students from their school; or with parental permission, students at another school or send them to a facility for the elderly to be printed and shared with the residents who live there.
Human Rights Day - This would be great for all ages. You can select any book or text about kindness and treating people with respect, then generate ideas, and implement one or two if possible.
National Flashlight Day - Most children of all ages enjoy playing with or using flashlights; therefore the possibilities are endless. You can have the students participate in scavenger hunts for sound cards, objects meeting certain descriptions, etc. With older students you can have them go on scavenger hunts for vocabulary (synonyms, multiple meanings, antonyms, different types of figurative language, etc.)
These are just a few exceptions; however, the possibilities are endless if we just open our minds to "daring to do something different."
I realize that some of us are in school; and many of us are working from home. Below are a few digital activities that might be fun without incorporating a holiday theme.
Here are a few free examples of digital interactive activities related that you may find useful with non-holiday related themes:
Following Directions (Pre-K but can be used for reinforcement activity or to target expressive language)
https://wow.boomlearning.com/deck/freebie-build-a-snowman-following-directions-Z38mgJXoMhDKBSiWj
Following Directions and Comprehension Questions (Grades K-4)
https://wow.boomlearning.com/deck/how-to-make-a-snow-person-with-comprehension-questions-kH7vku7GiN4Y3YgBq
Following Directions, Sequencing, and more...
https://wow.boomlearning.com/deck/free-the-mitten-interactive-scene-NGpfDSqrT5vkE8SFz
Oral Expression, Naming, Sentence Formulation, /s/ Blends
https://www.teacherspayteachers.com/Product/BOOM-CARDS-Flashlight-I-SPY-Classroom-Edition-5958489?st=67653f60a2713a6bbde8cc412dbd9b6d
Oral Expression, Vocabulary, and more…
https://www.teacherspayteachers.com/Product/Human-Rights-Word-Wall-and-Vocabulary-Activities-Google-Drive-and-Printable-5685637?st=ac36328a83515ba9c01d38e99fcc364e
There are plenty of other activities you can find to go along with some of the special days for December, and the added bonus is that you can use them any time of year. Dare to do something different this December?
Author: Truvine Walker, M.Ed./CCC-SLP, L