The beginning of the school year can be a daunting time as a school speech therapist. From making a brand new therapy schedule to getting back into the routine of a full school day, it can be stressful. Here are some handy tips and tricks to tackle the beginning of the school year like a pro!

Organize and personalize your space
Start with something fun! Organizing your desk, therapy room, or speech area is a great way to get ready for the new school year. You can hang up adorable speech posters, add personal items to your desk, or even just add a cute and motivational quote to serve as a daily reminder. Whatever you do, make the best of your space and make it feel as warm and comfortable as possible for you and your students!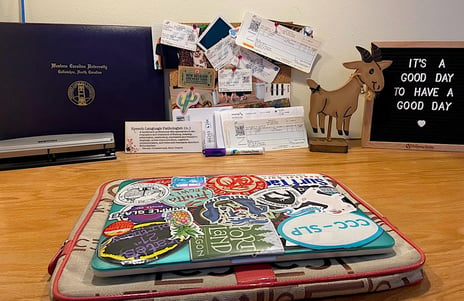 Sort through your therapy materials
Take inventory! Write down what materials you have, what you need, and what you ultimately want for therapy. Doing this a few times throughout the school year can help not only help you keep track of your materials but also be prepared when it is time to order new materials with your yearly budget. You will thank yourself at the end of the school year if you find out you have extra money to spend on materials. You will know exactly what you need/want to make your therapy sessions a success.

Treat yo' self to a good (and cute) planner
A good planner can truly make or break your day or week. I found that using a lesson-planning notebook was the easiest way to keep track of what I am doing and plan to do with my students. It can take some time to set up and perfect the use of it, but once you get the hang of it: BOOM, amazing! Amazon sells them for a reasonable price and they also come in cute patterns!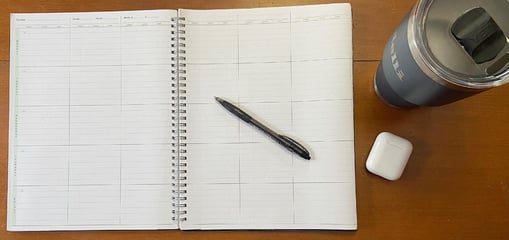 Introduce yourself
If you're in a new school or even the same one as last year, there might be teachers that you have not interacted with before. Introduce yourself to any teacher that you have not met or even just catch up with the ones you do know. Let all of the teachers know which students of theirs you have. Also, remind them that you will need a copy of their classroom schedule so you can begin to create your therapy schedule. Interacting with your student's teachers is important so start the year off right!

Folder organizers save lives
This is no joke! Whether you have therapy materials, student information, or student therapy folders, make sure you separate what you need from what you don't. Then, start organizing the important things. I have found it helpful to provide each student their own therapy folder that stays in the therapy room. This holds any work they have done along with their data sheets. I then use my handy dandy file holder boxes to sort their folders either by age group or school depending on the caseload. These are a cheap but great way to organize and can be found on amazon (the link is below). Even more fun, they also come in different colors and designs if you want to add a pop of color to your space!
https://www.amazon.com/Simple-Houseware-Magazine-Holder-Organizer




Author: Allison Sullivan, CF-SLP