"I speak Spanish to God, Italian to women, French to men, and German to my horse." This quote is commonly attributed to the former Holy Roman Emperor, Charles V, who ruled over most of Europe. He shows that if communication is not tailored to specific audiences, then the message will likely be poorly understood, if at all. The concept of providing speech language pathology services, in addition to other related services, in a variety of languages is becoming more important as our interconnected world becomes even smaller with the advent of teletherapy and growth of related services in other countries. In this article, I hope to briefly discuss what can be utilized to provide multilingual/cultural therapy including creating a student/patient profile and cultural competence. I will try to address issues that may arise in medical and school settings as best I can.
Wherever one might work, there will always be new individuals on a caseload. As part of the intake process, it is of utmost importance to take a thorough linguistic and cultural history of the new student or client. When communicating with an individual in a language you know, you can save plenty of time, but using a certified interpreter will avoid any potential misunderstandings. Unfortunately, interpreters are usually busy individuals in school and medical settings, so you might have to use phone interpreting or as a last resort, family of the student or patient who speak English. Another resource that I have seen professionals use is Google Translate. Although it might be good for individual words, it is not correct every time. Moving beyond communication options, some of the vital student/patient information that would be best to know for multilingual therapy would be as follows: numbers of languages spoken, who they speak these languages with, level of communication in 4 modalities (speaking, listening, reading, writing) for main language, and level of education/school exposure. Although there are other important items to collect during the initial meeting, having cultural competence is another step toward being a well-rounded related service professional.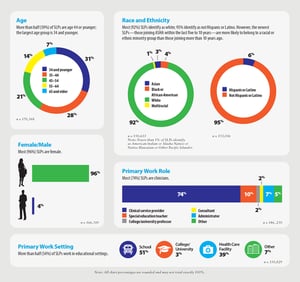 Cultural competence is a concept that has become more visible in recent years as the United States continues to grow into a more diverse nation than ever before. However, professionals in the related services continue to be mainly young, white, female, and English monolingual. Thankfully, there have been recent pushes for clinician diversity, both culturally and linguistically, to better serve our varying populations. As a male, Spanish-speaking clinician, I have been called a "unicorn" by many of my fellow-professionals, but having cultural awareness or competence is equally or perhaps more important than my speaking another language. Some of the elements that can vary based on clients'/students' background include: eye contact, conception of gender, intergender relations, importance of family, proxemics (how cultures might conceptualize personal space), and spiritual beliefs versus evidence-based practices to name a few. In conclusion, knowing the cultural mores of a client or student could make all the difference in having a great or less than stellar one.
Author: Mark Temenak, M.S., CCC-SLP B/L